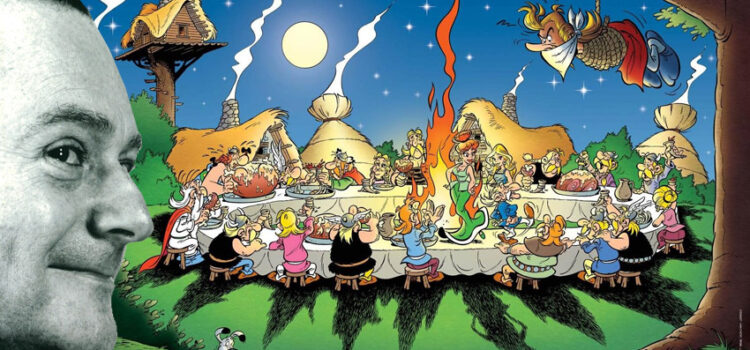 Rene Goscinny is famous for his creation of the Asterix comic book series with illustrator Albert Uderzo. He was among the few comic writers who were as well-known as the illustrators. The readers had great admiration for his engaging and hilarious storylines. His creations were full of classic scenes and unforgettable characters.
He had an amazing mastery over the creation of funny running gags, slapstick violence, and amusing puns. Goscinny was also instrumental in co-founding Pilote, a French comic magazine. Besides being the chief editor from 1963 to 1974, he played an important role in its success. Among his greatest achievements is that he was able to raise children's interest in a sophisticated form of comedy.
Early years
Goscinny was born in Paris to Jewish immigrants Stanislaw Simkha Gościnny and Anna Bereśniak-Gościnna in 1926. When he was two years of age, the Goscinny family went to live in the Argentinian capital, Buenos Aires. Rene Goscinny enjoyed a happy childhood and received his education in French-language schools in the city. He had a natural shyness, so he compensated for it by making everyone laugh in class.
Goscinny began drawing at an early age. The inspiration for it came from the stories that he enjoyed reading. His father died due to cerebral hemorrhage a year after he graduated from school. This forced the 17-year-old Goscinny to find a job. Although he got his first job the very next year, he was laid off in the year that followed. He soon got a job in an advertising agency as a junior illustrator.
In 1945, Goscinny went to New York along with his mother. To avoid military service in the United States, he traveled to France. He joined the French Army in 1946 and served in the 141st Alpine Infantry Battalion at Aubagne. Later, he was appointed as an illustrator of the regiment. After this appointment, his work in the regiment involved drawing posters and illustrations for the army.
Return to New York
After illustrating the book The Girl with The Eyes of Gold, Goscinny returned to New York the following year. While he was there, Goscinny had to face the toughest period of his life. For quite some time, he was alone, jobless, and completely broke. He was able to come out of this situation by 1948 and began working in a small studio. While he was the art director at Kunen Publishers, he wrote four books for kids.
He also met the chief of the World Press agency, Georges Troisfontaines, who convinced him to return to Paris. In the year 1951, Troisfontaines made Goscinny the head of the agency at its Paris office. While in the French capital, Goscinny met Albert Uderzo. This eventually led to a long-time collaboration between them.
Creation of Asterix and death
During 1959, the syndicate Edipress/Edifrance that he founded with Uderzo and two other individuals launched Pilote, a comic magazine. In the first issue of this magazine, he launched Asterix in collaboration with Uderzo. This comic series was an instant success and went on to become his most famous creation.
Goscinny died in Paris on the 5th of November 1977 from a heart attack. The Rene Goscinny Award has been named after him. It has been presented since 1996 to encourage young comic writers at the Angoulême International Comics Festival in France.
The Artistic Journey of Rene Goscinny